Whole house water filter 7" with wrench and polypropylene filter 20μm PRIMATO ITA1-7-BL12
Shipping Costs:


Austria, Albania, Belgium, Bosnia and Herzegovina, Bulgaria, Cyrpus, Croatia, Czech Republic, Denmark, Estonia, France, Finland, Germany, Hungary, Ireland, Italy, Latvia, Lithuania, Luxembourg, Malta, Netherlands, Poland, Portugal, Romania, Serbia, Slovakia, Slovenia, Spain, Sweden, United Kingdom, United States of America:


Tracked courier shipping ( TNT EXPRESS or TNT EXPRESS ECONOMY)
ETA: 1 - 7 business days.
Cost: 15 € on orders below € 100 (aprox. $ 120 / £ 83)
Free shipping on orders over € 100 (aprox. $ 120 / £ 83)




Greece

Tracked courier shipping.
ETA: 1 - 2 business days. For greek islands it might take a couple more days for the products to arrive.
Cost: 2.5 € for orders below 50 €.
Free shipping for orders over 50 €.




Other Countries

Tracked courier shipping. Let us know the products you are interested in buying and we'll find the best shipping solution!




Payment methods:

When you are ready to checkout, you can choose the following payment methods:

Paypal - NO CHARGES
Credit & Debit card - NO CHARGES
Credit card up to 6 installments - NO CHARGES
Wire transfer - NO CHARGES
Cash On Delivery (only for Greece) - NO CHARGES



Please sign in so that we can notify you about a reply
6 reasons to buy the Primato ITA-7-BL12 wholehouse water filter:
Quality of construction: Made in Italy from high quality materials.
It comes with a 10-year warranty on all plastic parts and a two-year warranty on all other components
Easy operation: Just install it and it immediately filters sediment.
It has a support base with screws, a metal decompression valve and a wrench to easily change the filter.
Compatible with most water pipelines: The inlet and outlet of the water is 1/2".
Includes cartridge: Packaging includes a 20μm polypropylene filter. Should you decide to select a different cartridge, the price will change automatically.
The advantages of the filter at a glance: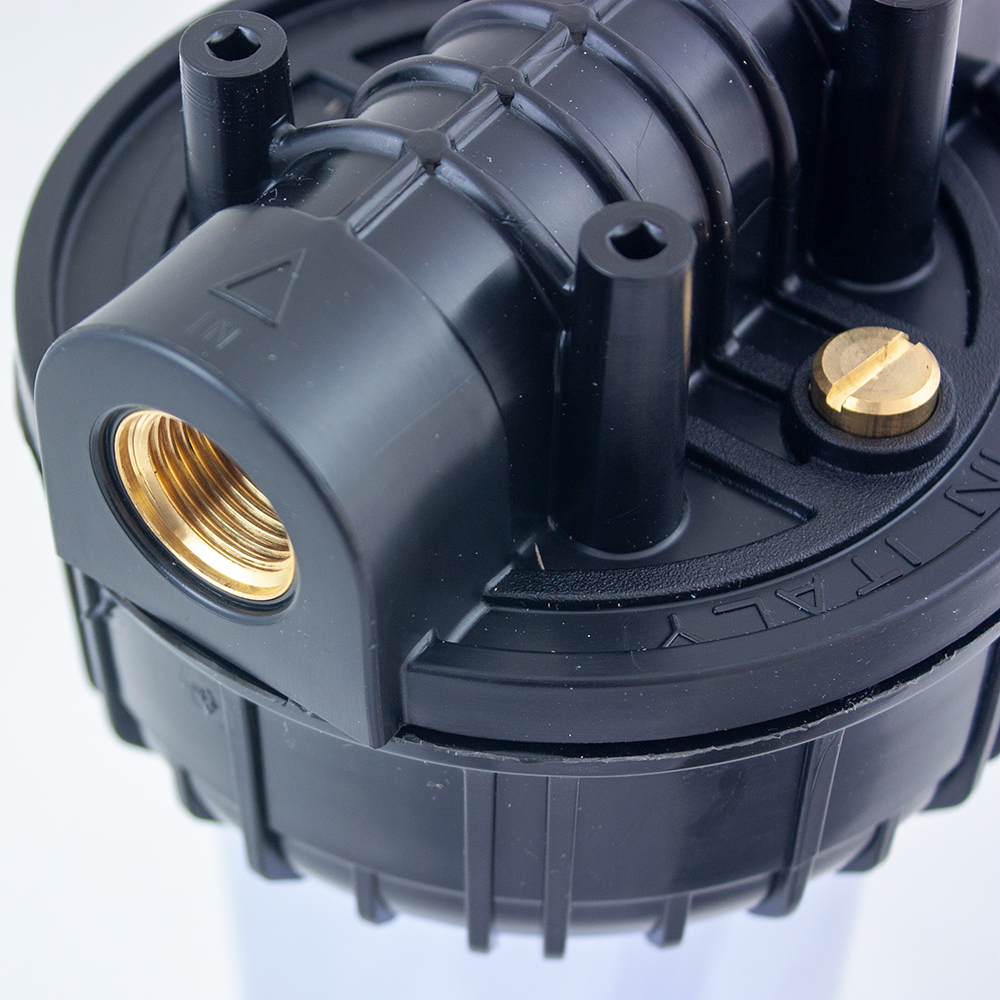 Reduces sediment and rust
High quality and durable construction
Metal contractions
Metal decompression valve to help you change the filter with ease
It comes with a 10 year warranty
Certifications:
The equipment complies with Government Gazette 4973 / Β / 2020 - "Specifications and requirements for equipment for the treatment of human consumption water provided in the internal water supply networks of buildings".
Primato maintains a complete technical file on the equipment as well as on its consumables.
The equipment complies with the provisions of Directive 98/83 / EC of the Council of the European Union of 3 November 1998 as amended by Directive (EU) 2015/1787 (L260, 7.10.2015).
The equipment complies with DM 174 - DM 25/2012 - ACS
Technical specifications:
Maximum pressure 6.89 bar (100 psi)
Maximum operating pressure 5 bar. If you have more than 5 bar pressure, then you will need to install a pressure reducer. The pressure reducer must be installed at the water inlet of the equipment. If you need help with the supply or installation of a pressure reducer, you can contact us.
Recommended operating pressure 2.5 - 3.5 bar.
Operating temperature range: 50 C – 400 C
Maximum water flow rate: 5 L / min. Higher flow may reduce the expected filter capacity.
Recommended water flow rate: 3 L / min.
The equipment must operate in a water supply network controlled by competent authorities for the quality of water for human consumption.
Maximum operating conductivity 1000 μS / cm2.
Pressure reduction: less than 0.68 bar @ 3.78L / m
Device Dimensions: With Bracket -> Length 13 cm, Width 16 cm, Height 28 cm. Without Bracket: Length 13 cm, Width 13 cm, Height 24 cm