PREMIUM UFC carbon block cartridge made from coconut shell with membrane Hollow Fiber Ultra Filtration 0.01μm
Shipping Costs:


Austria, Albania, Belgium, Bosnia and Herzegovina, Bulgaria, Cyrpus, Croatia, Czech Republic, Denmark, Estonia, France, Finland, Germany, Hungary, Ireland, Italy, Latvia, Lithuania, Luxembourg, Malta, Netherlands, Poland, Portugal, Romania, Serbia, Slovakia, Slovenia, Spain, Sweden, United Kingdom, United States of America:


Tracked courier shipping ( TNT EXPRESS or TNT EXPRESS ECONOMY)
ETA: 1 - 7 business days.
Cost: 15 € on orders below € 100 (aprox. $ 120 / £ 83)
Free shipping on orders over € 100 (aprox. $ 120 / £ 83)




Greece

Tracked courier shipping.
ETA: 1 - 2 business days. For greek islands it might take a couple more days for the products to arrive.
Cost: 2.5 € for orders below 50 €.
Free shipping for orders over 50 €.




Other Countries

Tracked courier shipping. Let us know the products you are interested in buying and we'll find the best shipping solution!




Payment methods:

When you are ready to checkout, you can choose the following payment methods:

Paypal - NO CHARGES
Credit & Debit card - NO CHARGES
Credit card up to 6 installments - NO CHARGES
Wire transfer - NO CHARGES
Cash On Delivery (only for Greece) - NO CHARGES



Briefly:
Filters the water in 2 stages
The filter externally consists of solid activated carbon from coconut bark with permeability of 10μm.
Internally, the filter has a Hollow Fiber membrane with permeability of 0.01μm.
The water penetrates the filter from the outside to the inside. It is thus forced to pass first from the activated carbon and then from the membrane.
It reduces an incredibly wide list of contaminants such as chlorine, bacteria, viruses, colloids, etc.
Chlorine durability: 15,000 gallons@ 1.0 gpm ( 56.781 L ).
Certifications: NSF, ISO 9001
Dimensions 2.5"X 10"
Hollow Fiber technology is the most modern method of water treatment.
Fits most commercial devices
Details:
Stage 1 - Coconut compact activated carbon filter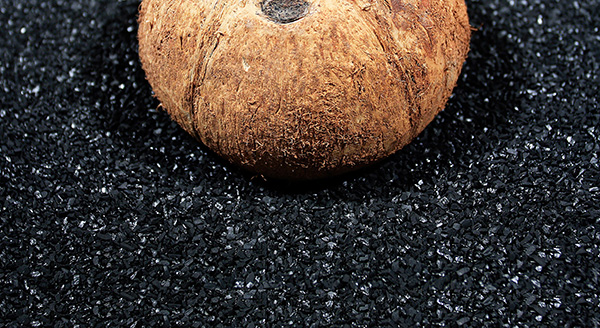 Active carbon filters are the most effective method of water treatment and purification. They are used either on their own, in single water filters or in combination with other filters depending on the area's problem and water quality. If, for example, your water had a bad taste and smell as well as nitrates, then you would put a double filter - in the first stage a nitrate reduction filter and in the second stage an activated carbon filter to reduce the most harmful to the organism substances and for to significantly improve the taste and odor of water. The activated carbon has a huge surface - think that half a pound of activated carbon can occupy an area of 0.5 km2 (half a square kilometer !!!).
The activated carbon in this filter reduces chlorine, chloroform, unpleasant taste, odor, suspended particles, sand, rust, sludge, soils, total organic carbon, industrial organic compounds (tetrachlorethylene, trichlorethylene), dissolved organic compounds, dissolved iron, manganese, industrial waste and many other substances harmful to the organism. It is made from the coconut bark, therefore it is extremely ecological and environmentally friendly.
Stage 2 - Ultrafiltration with hollow fiber membrane ( Hollow Fiber Ultra Filtration)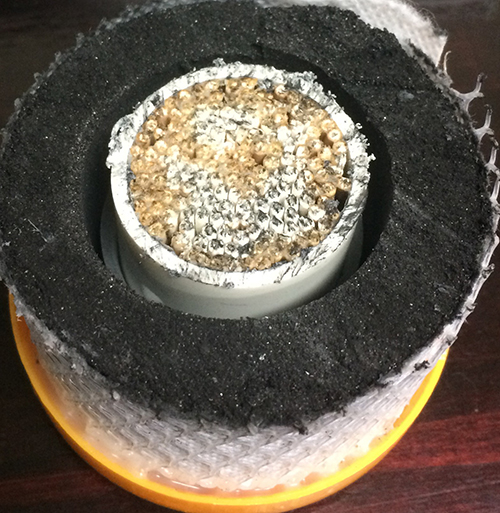 Inside this filter is a Hollow Fiber membrane from the Ultra Filtration category. Ultrafiltration category includes filters having a permeability of 0.1 to 0.01 μm.
Ultra Filtration technology, using Hollow Fiber membranes, changes the way we clean and process water all over the world. Large water treatment companies and water recycling plants are now using this method, mainly because in relation to reverse osmosis technology, Hollow Fiber membranes do not have to drain water to function.

A few years ago, this technology was so expensive that we only encountered it at very large water recycling plants. But as technology progresses, it is getting cheaper, so that water filters, known water filters, can now be introduced into domestic water treatment systems. It can be used in a wide range of applications, where water is quite "problematic", such as camps, lakes, motor homes, etc. Of course, it can also be used for more "simple" uses such as water cleaning of cities.
It removes chlorine, bacteria, viruses, colloids, Giardia, Crypto (commonly found in tanks and non-city water sources), suspended solids, turbidity, micro-organisms, TOC's etc.

How does it work:
Solids and high molecular weight solutes are maintained, while water and low molecular weight solvents are passed through the membrane. This separation process is used in industry and research to purify and concentrate macromolecular (103 - 106 Da) solutions, especially protein solutions. Ultrafiltration is not much different than reverse osmosis, Microfiltration or Nano-Filtration, in addition to the size of the molecules it retains, ie their permeability (how narrow the holes are trying to do) to pass water).

Water treatment is divided into 5 categories: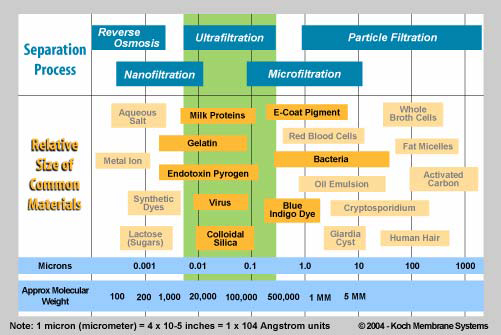 Filtration of particles (1000μm - 10μm). In this category belong the central water supply filters (the filters we put in the "clocks" of the apartment buildings). These filters remove soil, stones and rust.

Microfiltration 10μm - 0.1μm (Micro-Filtration). This category includes most activated carbon filters as well as ceramic filters.
Ultrafiltration 0.1μm - 0.01μm (Ultra Filtration). This category includes hollow fiber membranes (Hollow Fiber Membranes).
Nanofiltration (0.01μm - 0.001μm) (Nano Filtration).
Reverse Osmosis (0.0001μm) (Reverse Osmosis).
This filter therefore combines microfiltration with ultrafiltration. It is the best you can put in your home to enjoy yourself and your family safe, healthy and crystal clear water!