Simple bottle in water filter conversion kit LifeStraw® UNIVERSAL LS11114
Shipping Costs:


Austria, Albania, Belgium, Bosnia and Herzegovina, Bulgaria, Cyrpus, Croatia, Czech Republic, Denmark, Estonia, France, Finland, Germany, Hungary, Ireland, Italy, Latvia, Lithuania, Luxembourg, Malta, Netherlands, Poland, Portugal, Romania, Serbia, Slovakia, Slovenia, Spain, Sweden, United Kingdom, United States of America:


Tracked courier shipping ( TNT EXPRESS or TNT EXPRESS ECONOMY)
ETA: 1 - 7 business days.
Cost: 15 € on orders below € 100 (aprox. $ 120 / £ 83)
Free shipping on orders over € 100 (aprox. $ 120 / £ 83)




Greece

Tracked courier shipping.
ETA: 1 - 2 business days. For greek islands it might take a couple more days for the products to arrive.
Cost: 2.5 € for orders below 50 €.
Free shipping for orders over 50 €.




Other Countries

Tracked courier shipping. Let us know the products you are interested in buying and we'll find the best shipping solution!




Payment methods:

When you are ready to checkout, you can choose the following payment methods:

Paypal - NO CHARGES
Credit & Debit card - NO CHARGES
Credit card up to 6 installments - NO CHARGES
Wire transfer - NO CHARGES
Cash On Delivery (only for Greece) - NO CHARGES



Please sign in so that we can notify you about a reply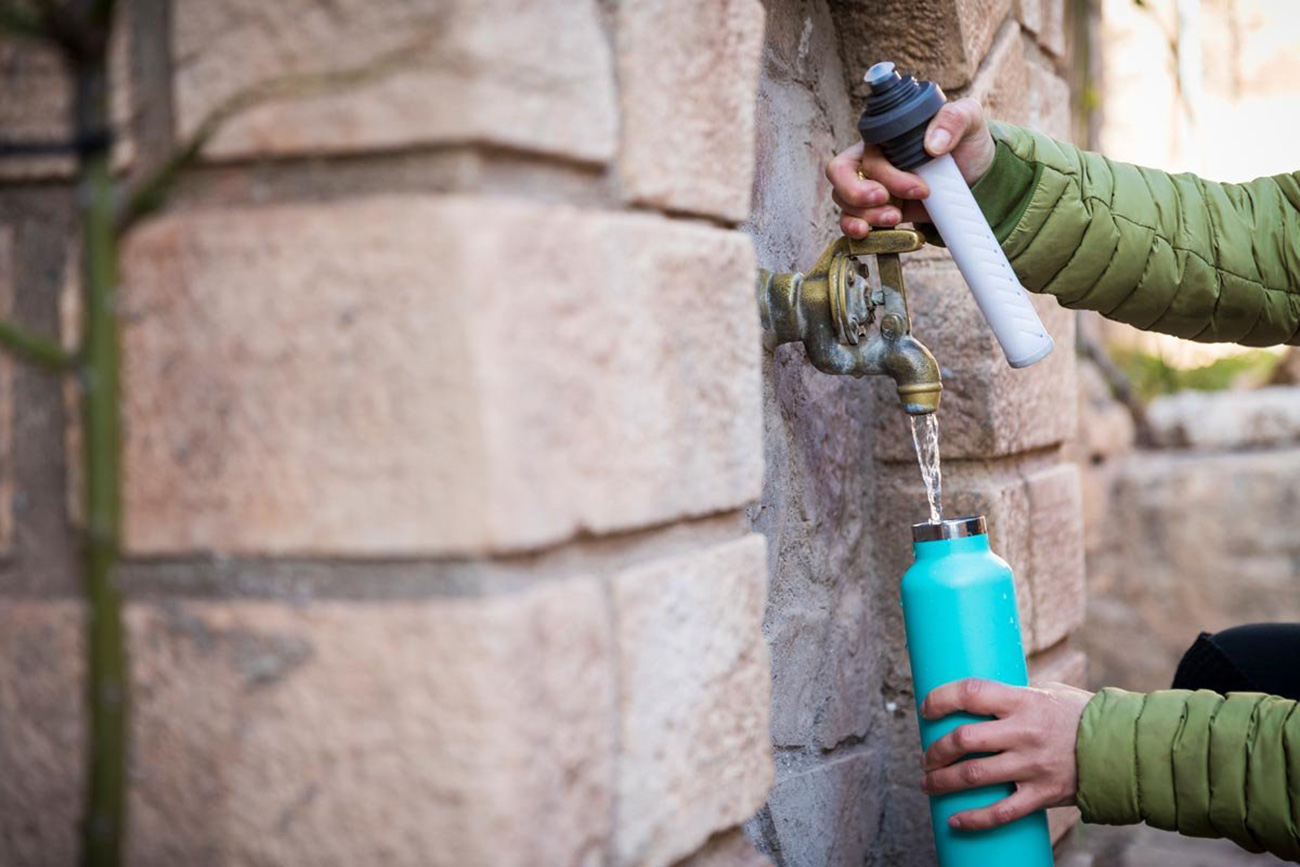 It turns a simple bottle into an advanced next-generation water filter with hollow fiber membranes and activated carbon!
The filters have been tested in Bangladesh, Kilimanjaro, even in the Narrows of Zion!
How it works:
The LifeStraw® UNIVERSAL kit has an advanced 2-stage water filter that protects you from bacteria, parasites and microplastics and reduces various chemicals such as chlorine.
It improves water taste and odor.
Free from diphenols.
Without leaks.
Ideal for hiking, camping, international travelling and emergencies.
You can drink water from rivers, lakes and, of course, from your kitchen tap.
1
Stage 1: The hollow fiber membranes remove:
99.999999% of bacteria such as Brucella melitensis, Campylobacter jejuni, pasteurella tularensis, Pseudomonas aeruginosa, Shigella, Staphylococcus Aureus, Vibrio Cholera, Vibrio parahaemolyticus, Yersinia enterocolitica, Yersinia pestis, Enteropathogenic E.coli, Haemophilus influenzae, Klebsielia pneumoniae, Legionella pneumophia, Mycobacterium Tuberculosis, Mycoplasma pneumoniae, Pseudomonas pseudomallei, Salmonella hirschefeldii, Salmonella typhimurium, Salmonella typhosa, Shigella dysenteriae, Streptococcus pneumoniae, Streptococcus pyogenes
99.999% of parasites such as Ascario lumbricoides, Cryptosporidium, Entamoeba, Giadia Lamblia, naegleria gruberi, schistosoma mansoni, taenis saginata
99.999% of microplastics
2
Stage 2: The activated carbon reduces:
Chlorine and its spinoffs, such as chloroform
Bad taste and odor
Organic chemical matter
Pesticides
Herbicides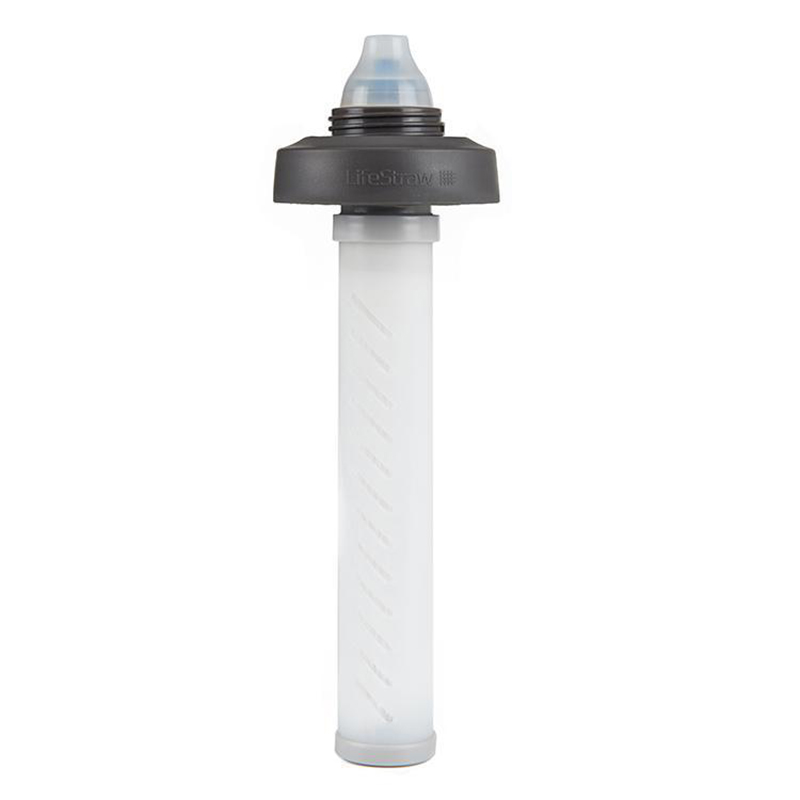 Accessory with a female thread!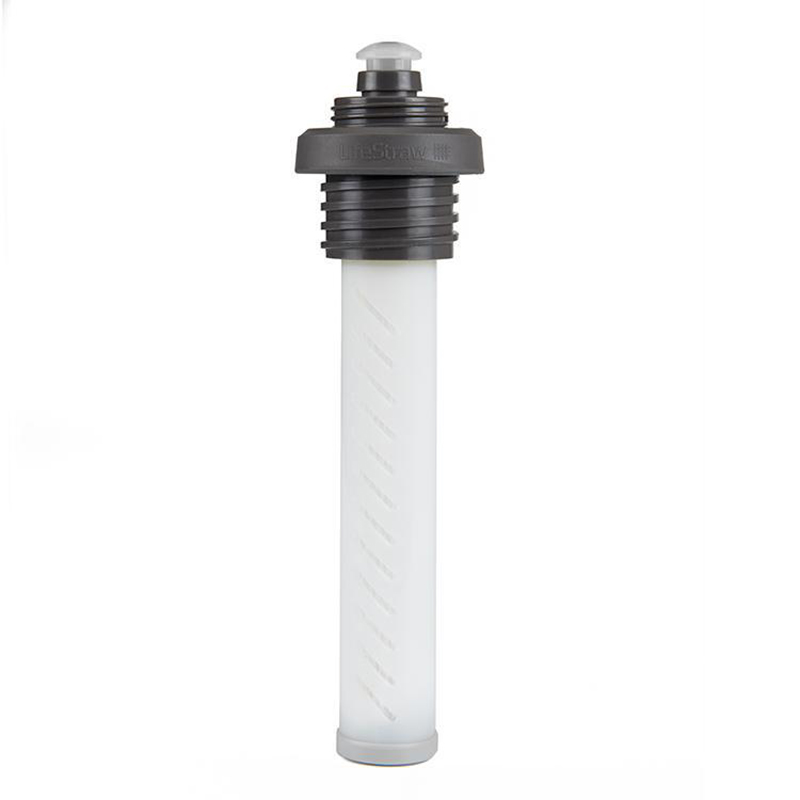 Accessory with a male thread!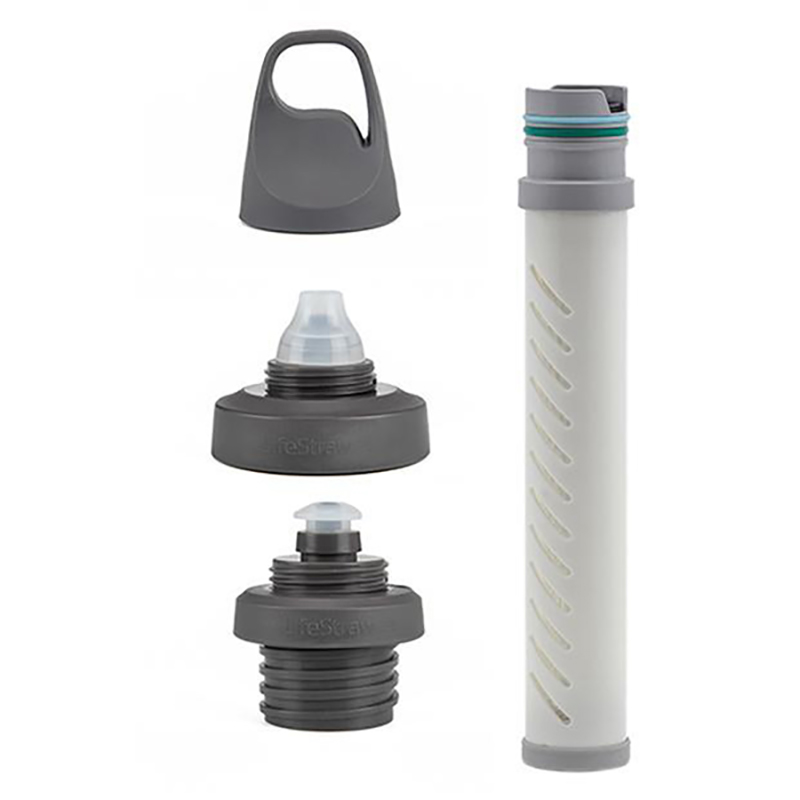 It has different mouths and sizes to fit your bottle!
Characteristics
LifeStraw UNIVERSAL includes 2 advanced water filters - a microbiological and an activated carbon filter, the bottle, a lid with a silicone mouth and a carabiner.
Filtration technology: Hollow fiber microfiltration membrane (0.2 microns) paired with an activated carbon filter. The Hollow Fiber membrane is semi-permeable. All elements bigger than 0.2μm cannot penetrate it. Activated carbon is widely used in water filters and it is the main water filtering and processing medium worldwide.
Hollow Fiber lifetime: 4,000 liters (100 gallons). The membrane pores clog over time as the filter is used. At the end of its lifetime, you will notice that water finds it difficult to pass through.
Carbon filter lifetime: 100 liters (25 gallons). If you use it frequently, we recommend its replacement every 3 months.
Lab information
In LifeStraw, they believe that responsible manufacturing includes creating and maintaining a strong evidence base for their product claims and their intended impacts. All products undergo rigorous independent testing to meet or exceed protocols established by the US Environmental Protection Agency (EPA) and National Sanitation Foundation (NSF). They have also built and run an ISO accredited water laboratory based in Vietnam that does quality validation and testing of all new and existing products.
Hollow fiber membrane filter: 0.2 micron pore size. Removes 99.999999% of bacteria, 99.999% of parasites, and 99.999% of microplastics.
It also removes turbidity, mud and soil.
The activated carbon filter improves taste and odor while reducing chlorine and its spinoffs, as well as organic chemical matter such as pesticides, herbicides and VOCs.
It meets the US EPA drinking water standards for bacteria and protozoa reduction.
It meets the NSF/ANSI Standard 42 for chlorine reduction, bad taste and odor.
Water flow 1,2 liters/minute
EPA Ext. No. 95395-KOR-1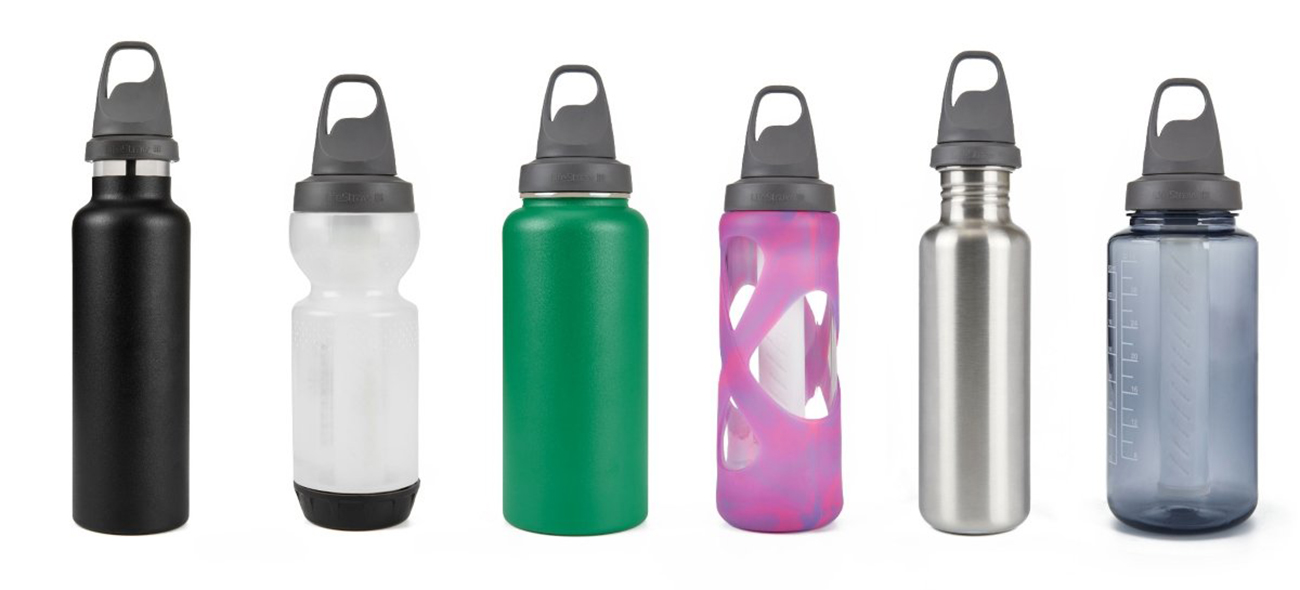 Fit this kit into your bottle and enjoy crystal clear and healthy water!
It has been tested in the following bottles:
Hydroflask - Wide mouth (32 oz).
Hydroflask-Wide mouth (40 oz)
Hydroflask- Wide mouth (64 oz)
Hydroflask- Standard mouth (21 oz)
Hydroflask - Standard mouth (24 oz)
Camelbak - Podium Chill (21 oz)
Camelbak - Eddy (25 oz)
Camelbak - Eddy, Glass (24 oz)
Camelbak - Chute (25 oz)
Klean Kanteen - Classic (27 oz)
Klean Kanteen - Classic (40 oz)
Klean Kanteen - Classic (64 oz)
Klean Kanteen - Wide mouth (27 oz)
Klean Kanteen - Wide mouth (40 oz)
Klean Kanteen -Wide mouth (64 oz)
Nalgene-ATB (22 oz)
Nalgene- OTG/OTF (24 oz)
Nalgene-Wide mouth (32 oz)
Nalgene- Steel (32 oz)
Nalgene - Steel (38 oz)
Nalgene - Standard (32 oz)
Nalgene - Backpacker (32 oz)
Contigo -Auto Seal, Chill (24 oz)
Contigo - Autospout, Damen Chug (24 oz)
Hydrocell (18 oz)
Hydrocell (24 oz)
Hydrology (32 oz)
Simple Modern - Ascent, Narrow mouth (17 oz)
Simple Modern- Ascent, Narrow mouth (20 oz)
Takeya - Originals (18 oz)
Takeya- Originals (24 oz)
IT DOESN'T FIT in the following bottles:
Contigo-Autospout, Addison (24 oz)
Contigo -Autospout, Addison (32 oz)
Lifefactory (16 oz)
Lifefactory (22 oz)
Embrava (Best Sports) - (18 oz)
Embrava (Best Sports) - (32 oz)
Embrava (Best Sports) - (32 oz)
Embrava (Best Sports) - (40 oz)
Simple Modern -Ascent, Narrow mouth (12 oz)
Sigg-Traveler (32 oz)
Takeya -Originals (14 oz)
Bobble Bobble - (34 oz)
Bobble - (22 oz)
S'Well -Original (17 oz)
S'Well - Original (25 oz)
Yeti - Rambler (18 oz)
Yeti - Rambler (26 oz)
Yeti - Rambler (36 oz) (18.5 oz)