HI-701 Free Chlorine Handheld Colorimeter - Checker®HC
Shipping Costs:


Austria, Albania, Belgium, Bosnia and Herzegovina, Bulgaria, Cyrpus, Croatia, Czech Republic, Denmark, Estonia, France, Finland, Germany, Hungary, Ireland, Italy, Latvia, Lithuania, Luxembourg, Malta, Netherlands, Poland, Portugal, Romania, Serbia, Slovakia, Slovenia, Spain, Sweden, United Kingdom, United States of America:


Tracked courier shipping ( TNT EXPRESS or TNT EXPRESS ECONOMY)
ETA: 1 - 7 business days.
Cost: 15 € on orders below € 100 (aprox. $ 120 / £ 83)
Free shipping on orders over € 100 (aprox. $ 120 / £ 83)




Greece

Tracked courier shipping.
ETA: 1 - 2 business days. For greek islands it might take a couple more days for the products to arrive.
Cost: 2.5 € for orders below 50 €.
Free shipping for orders over 50 €.




Other Countries

Tracked courier shipping. Let us know the products you are interested in buying and we'll find the best shipping solution!




Payment methods:

When you are ready to checkout, you can choose the following payment methods:

Paypal - NO CHARGES
Credit & Debit card - NO CHARGES
Credit card up to 6 installments - NO CHARGES
Wire transfer - NO CHARGES
Cash On Delivery (only for Greece) - NO CHARGES



Ideal for swimming pools, thermal baths, water filters and aquariums!
Chlorine is the most common water disinfectant and by monitoring chlorine regularly and accurately, serious health and safety hazards can be avoided.
The HANNA HI-701 is designed to fit in the palm of your hand. The large LCD screen is easy to read and the auto power off feature ensures that the battery life will not run out if you forget to turn it off.
It can also be used to determine chlorine levels in aquariums for optimal fish and plant health.
Ideal for: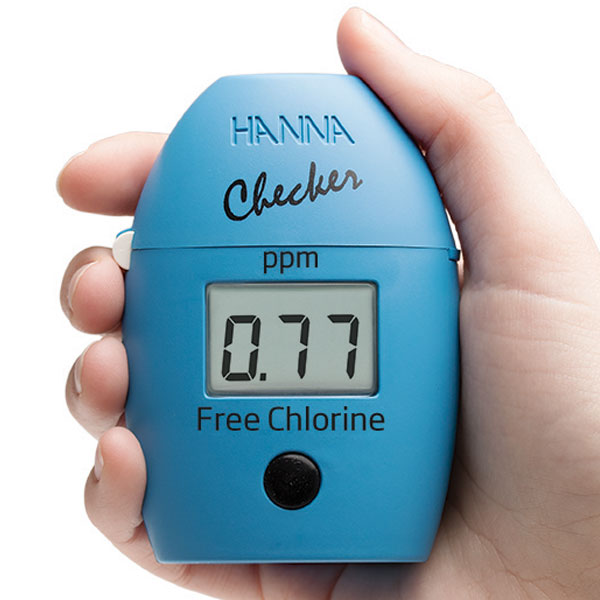 Swimming pools and thermal baths
Check water and aquarium filters
Disinfection applications
Aquaculture
Benefits

The test is quick and easy
High-precision results - more accurate than chemical test kits
The auto-off feature means it automatically shuts off automatically
Fully portable, fits easily in palm and pocket
It comes with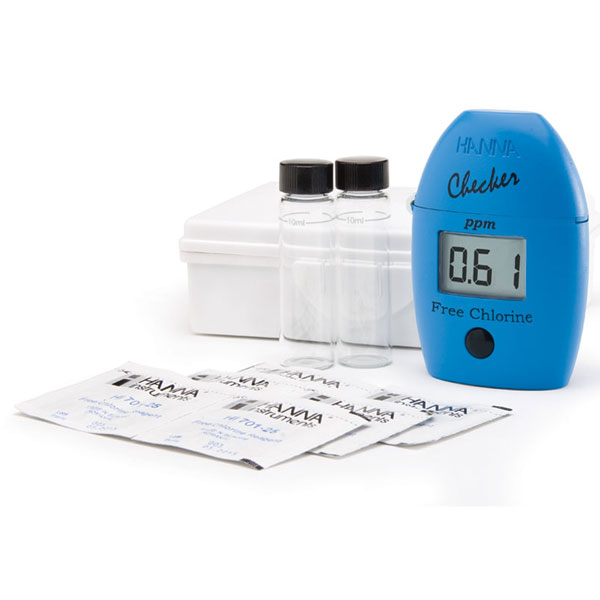 2 vials
6 reagents. You can find reagents on our page
1 x 1,5 AAA battery
Instructions
Reset the counter
Add the reagent to the vial
Insert the vial into the checker
Press the button for results
Specifications
Range 0.00 to 2.50 ppm (mg/L)
Resolution 0.01 ppm (mg/L)
Precision 3% of reading ±0.03 ppm (mg/L) @ 25°C
Light Source LED @ 525 nm
Light Detector Silicon photocell
Environment 0 to 50°C (32 to 122°F); RH max 95% non-condensing
Battery Type (1) 1.5V AAA
Auto-off After 2 minutes of non-use and after read
Dimensions 81.5 x 61 x 37.5 mm (3.2 x 2.4 x 1.5")
Weight 64 g (2.25 oz.)
Method EPA approved DPD method Standard Method 4500-Cl G.
Please Note
In some cases, samples may contain other parameters which may interfere with results. Interference may be caused by: Bromine, Iodine, Ozone, Oxidized forms of Chromium and Manganese. In case of water with hardness greater than 500 mg/L CaCO3, shake the sample for approximately 2 minutes after adding the powder reagent.
If the water used for this procedure has an alkalinity value greater than 250 mg/L CaCO3 or acidity value greater than 150 mg/L CaCO3, the colour of the sample may develop only partially, or may rapidly fade. To resolve this, neutralise the sample with diluted HCl or NaOH.